Disclosure of Material Connection: This is a "sponsored post." The company who sponsored it compensated me via a cash payment, gift, or something else of value to write it. Regardless, I only recommend products or services I use personally and believe will be good for my readers. I am disclosing this in accordance with the Federal Trade Commission's 16 CFR, Part 255: "Guides Concerning the Use of Endorsements and Testimonials in Advertising."
This is a sponsored post written by me on behalf of Poise for IZEA. All opinions are 100% mine.
Wouldn't you love to actually be able to stop leaks before they occurred? Finding a true bladder support after wishing and hoping that those exercises we hear so much about didn't really work or we couldn't stick to doing them to see if they actually did work.
Poise Impressa Bladder Supports is one of the first over-the-counter products that can help you stop those leaks before they leave you embarrassed and they even understand that bladder support is not one size fits all. All women are different and so is their leakage.
Leakage comes from all types of daily tasks that occur naturally such as laughing, coughing, sneezing, dancing, exercise, and for some, even just bending over can cause bladder leakage. This is called Stress Urinary Incontinence and Poise* Bladder Supports may be for you! As a young adult I didn't think much about this until after having a child and then the bladders support was certainly not what it once was.
Impressa* offers three sizes of bladder support and has some great trial kits to get you started so you don't buy the wrong size in bulk.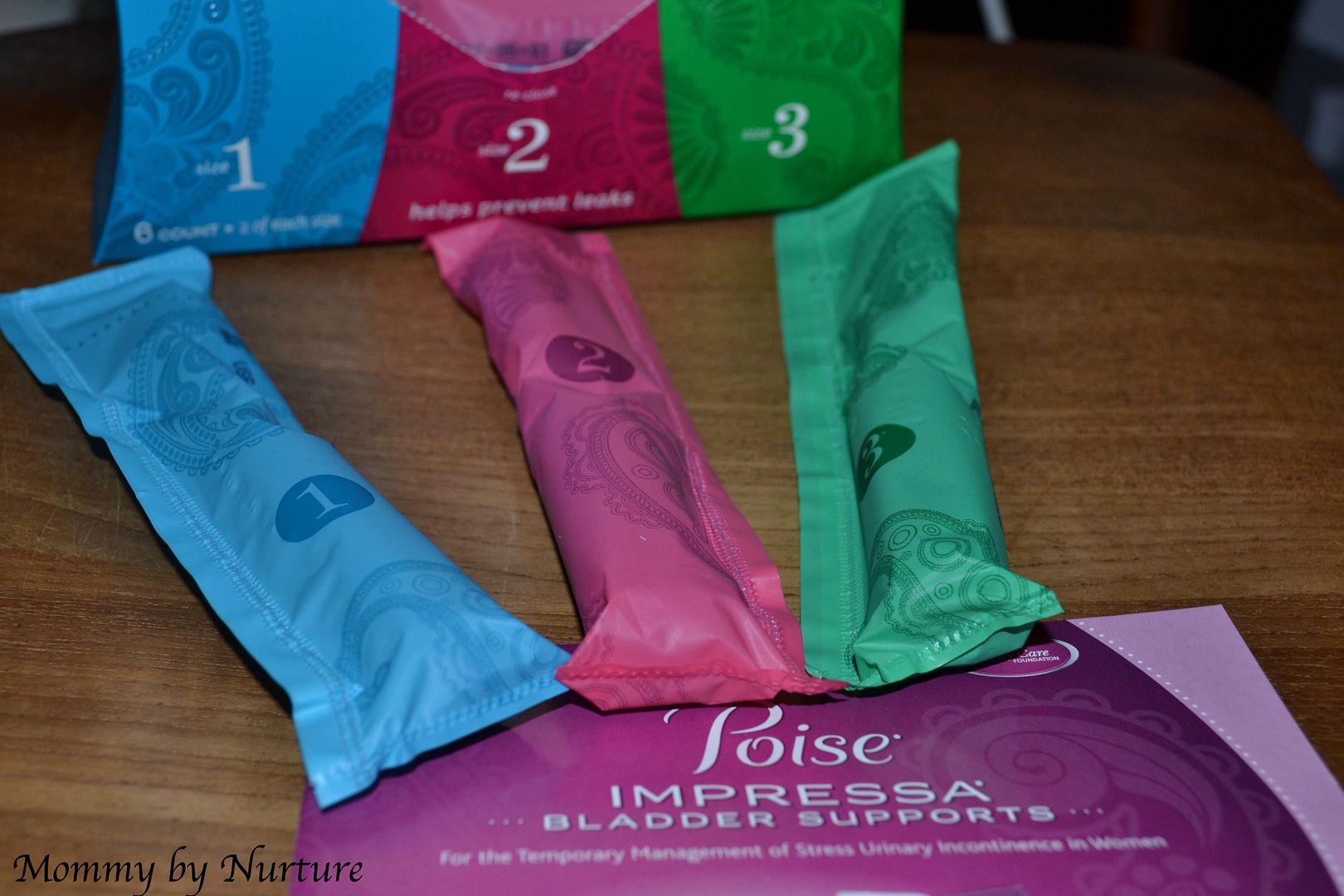 Size 1, Comfortable? Little to no leaks once trying, this may be your size.
Size 2, Still having leaks? Try this size to get them to be less. Minimal leaks? This may be your size.
Size 3, Not quite there? Go for the size 3. Once you have hardly any leaks you know you found your size!
Ready to find your size? Grab a coupon here: Poise Impressa coupon
You may be thinking that the Poise* Impressa* Bladder Supports look similar to tampons. This would be correct, but they are shaped differently to help support your bladder. The total number of hours you should use this product is not to exceed 8 hours, therefore it is best to use for a typical work day or if you are a stay at home Mom, while out and about for your errands and play dates.
If you are pregnant, may become pregnant, or have given birth in the past 3 months, this product will not be for you just yet but may be great for you after that three month mark post pregnancy.
I really am quite impressed with how Poise* Impressa* has given a great booklet to educate the consumer on not only how the product works but who it is for, what to look out for, and how to properly manage bladder support and leaks that many women are intimidated to discuss. If only all feminine care products could offer as much insight as they do, maybe we wouldn't be so intimidated by what our bodies seem to do to stress us out.
Ask a doctor before using if you:
Have pain during intercourse or when inserting a tampon or tampon-like device (this could be an atrophic vagina)
Often experience difficulty in retaining a tampon or tampon-like device (this could be vaginal prolapse)
Check out more information at Impressa.com
Author:
Nichole Arnold
I'm the owner of Mommy Needs a Bottle . I'm a 30- something wine enthusiast that resides in Tampa, FL. I love family traditions, traveling, cooking, baking, reading, fashion, tattoos, beauty products, and being a Mommy! I have a background in marketing, public relations, copywriting, and sales.