This post brought to you by Wendy's. The content and opinions expressed below are that of Mommy By Nurture.
The Wendy's® Halloween Coupon Book is back and just in time to stock up and give to those little tricksters knocking on your door for a special treat this year! When handing out a goodie to the local neighborhood children, why not help the Dave Thomas Foundation for Adoption at the same time. Nothing could be sweeter than finding a free Jr. Frosty coupon in their satchel at the end of the night!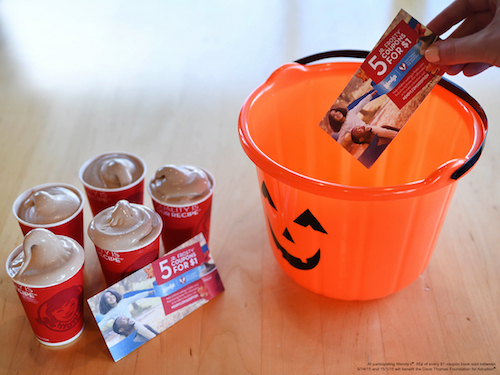 Now, through November 1st Wendy's® is selling their Halloween Coupon Book for $1 and customers will get 5 or 10 free Jr. Frosty Coupons.* Funds from the Halloween Coupon Book will go to fund amazing foster programs such as Wendy's Wonderful Kids which was started by Wendy's® Founder, Dave Thomas. He himself was an adopted child and knew first-hand how much having a family means to a child. 
The Wendy's Wonderful Kids foundation works to find loving and permanent homes for more than 130,000 children waiting in the foster care system here in North America. Wendy's®  continues to support Dave's belief that children in the foster care system "aren't someone else's responsibility, they are our responsibility."  You can now help support finding forever homes for the children waiting in foster care with your purchase(s).  ** $0.85 cents of every dollar from the Halloween Coupon Books will go to support the Dave Thomas Foundation for Adoption.
Growing up, I encountered many children who I became friends with in the foster system. I was always so happy to have so many friends to play with and it was  bitter sweet when they got their forever home. I lost contact with a friend but they got the family they dreamed of. I know one family in my church who has opened their heart and home to hundreds of foster girls over the years and they are in direct contact with another foster family locally who takes the male siblings so they can stay connected while waiting for their forever family. This shows the love and commitment a stranger can provide as a foster parent.
It takes a village to raise children and that is an understatement when it comes to what the Dave Thomas Foundation for Adoption believes in! If you believe in every child having a family and home to call their own, this is a great way to support their organization and avoid standing in the candy aisle dreading out how to pick the best item to hand out, the best item is the Wendy's® Jr Frosty Halloween Coupon Book!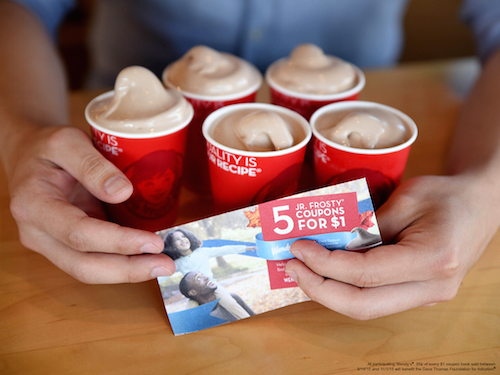 Just think of this when you purchase the Wendy's® Halloween Coupon Book, not only are you supporting an amazing foundation but you just gave those children and their parents a break in their day to go and have a special family moment of their own and to enjoy a scrumptious Wendy's ® Jr Frosty. It's a win win for everyone! A full size candy bar is more expensive in the store 😉 Give Trick-or-Treaters coupons for Wendy's Frosty® treats instead.
To learn more please visit the Wendy's adoption page.
* Number of coupons per book vary based on location
** $0.85 cents of every dollar from the Halloween Coupon Books will go to support the Dave Thomas Foundation for Adoption.
Author:
Nichole Arnold
I'm the owner of Mommy Needs a Bottle . I'm a 30- something wine enthusiast that resides in Tampa, FL. I love family traditions, traveling, cooking, baking, reading, fashion, tattoos, beauty products, and being a Mommy! I have a background in marketing, public relations, copywriting, and sales.